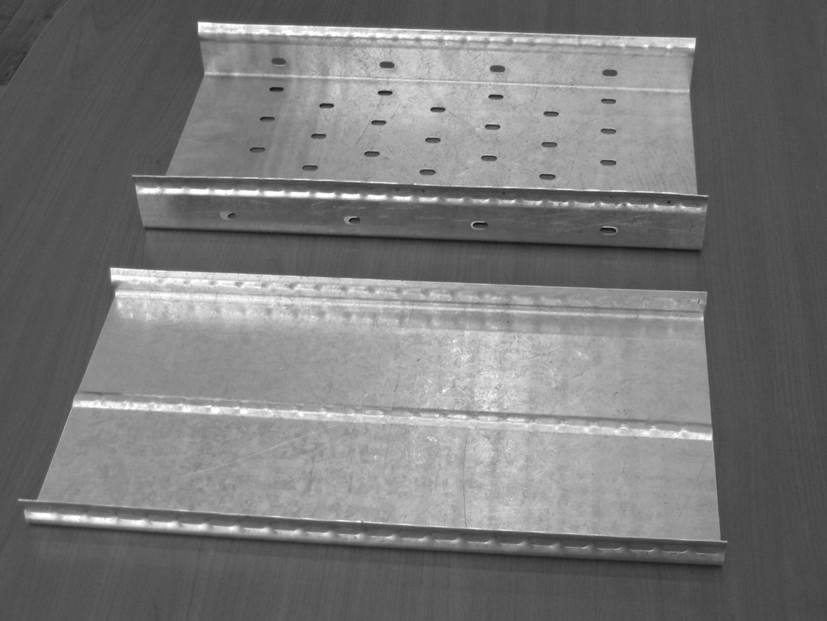 A metallic cable tray is an u-shaped metallic frame that could made from either perforated or non-perforated steel sheets. They're supplied along with tray cover for the sake of additional cable protection.
Special accessories are attached to the trays that allow for cable route bending both horizontally and vertically.
The production range of cable trays includes: feeder circuit support constructions and clamping elements; different types of cable trays, ladders etc.
Why order a cable tray from us?
At "Promet" metalwork plant you can order cable trays of any type and quantity. Our equipment allows for executing of high-precision metal bending, cutting and perforation. "Promet" LTD. is one of the major cable tray manufacturers in Kazakhstan. The plant's production capacity is enough to fulfill the demand for cable trays caused by all telecommunicational and other companies of our country.
Another important advantage is that you can form a complex order for various metallic structures in one place, which is financially beneficial. We can also execute delivery and installation of our products on the spot (if needed).
If you're concerned about the order and operation of your cables and routes, and you'd like to avoid any stops or constant maintenance - you should protect them with cable trays produced at "Promet" factory. Our products will serve you for long and will definitely cover the money you'll pay for their purchasement. We produce the best metallic structures in Kazakshtan, and we provide impeccable service! Don't hesitate to contact us!