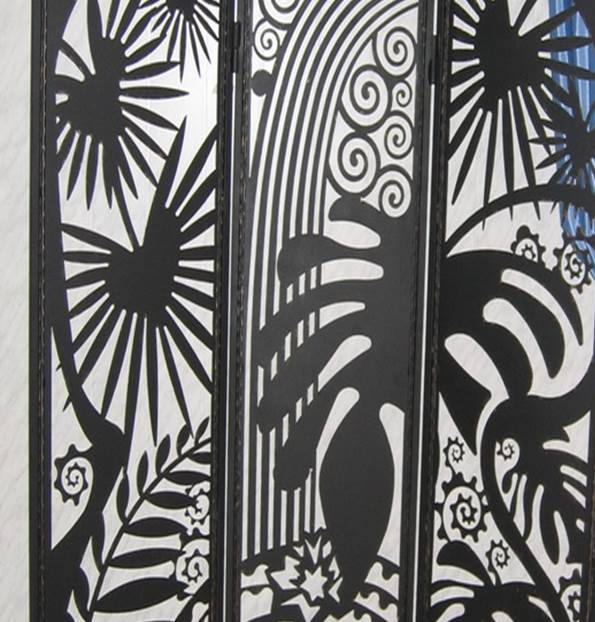 Decorative elements from metal create a unique and fancy look for you interior. We can produce beautiful and durable metal artwork by means of a laser metal cutting device installed at our plant.
"Promet" metalwork plant is able to produce any kind of metal artwork from metal sheets. Our high-precision laser cutting device transforms metal sheets into elegant lacework automatically, and on a high speed!
All kinds of carving on the fences, pavilions and staircases that are produced at our factory give out a magnificently beautiful look and decorate your indoor environment. A whole variety of peculiar motifs that are masterfully shaped from metal can greatly complement any interior, giving it a whole new mood and character. We'd like to put your attention on the fact that such artwork is very long-lasting, and, with aid of a simple treatment, will be bringing you joy for many years on!
Here is the list of most popular decorative elements produced at our plant:
ornate air grills;
decorative grills and screens for heating radiators;
ornate metal gates;
custom-made braziers and chargrills.
Would you like to stand out with an unusual design of your gate, fence, pavilion, staircase or porch? Or do you want to treat your guests to a barbecue made on a custom metal brazier that is a fine piece of art by itself? If so, don't hesitate and contact our experts today! They will be happy to provide you with comprehensive information on how to choose a design for your item, or make an order.
Due to our high-tech laser metal cutting machinery, we are capable of producing true pieces of fine art. Make us a call, and we will gladly give you an advice or get you familiar with our productive capacity!