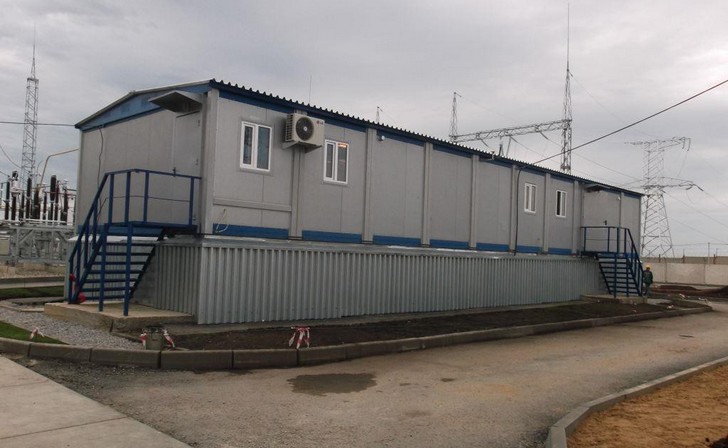 Our metalwork plant is proud to offer you block-modular buildings for various use that are made from fine certified materials. All products made on "Promet" metalworks plant stand out with their operational convenience, durability, reliability and aesthetic look.
Our block-modular buildings can be used as bus-and-switch structures, or as accomodation facilities in rotation villages, or as a mobile office etc.
But what exactly is a mobile block-modular building?
A mobile block-modular building is a universal construction that's easy to erect. It is the most reasonable and quick solution for technological equipment housing and providing access for its maintenance and control. The simplicity and quality of such constructions is the reason behind their popularity among those interested in getting new effective square meters while saving a bomb on costs.
Block-modular buildings can be easily mounted, demounted or transported to other sites. In production we use only highly effective and modern materials that make the buildings ecologically safe, and that is not to be overlooked when one seeks solution to the problem of providing temporary accomodation that would totally correspond to all sanitary regulations.
Why order a block-modular building from us?
Block-modular buildings produced at our plant are delivered to the site in block-modules. Then our trained specialists come to the site and perform the assembly of separate parts into a solid building: they will firmly seal all joints and mount the roofing. That is, our client gets a comfortable mobile building that may be used as a lodging facility or for industrial activities within the shortest time possible.
No problems will occur during the assembly, because the construction is preassembled at the plant in order to avoid any unpleasantries prior to the delivery.
It is easy to make an order at "Promet" metalwork plant, for we're eager to meet our clients' expectation both in terms of payment and design. Contact us and we will be happy to furnish you a fine block-modular building that corresponds to the highest quality standards and suits each and every one of your needs!