Cabinets
for
electrical
equipment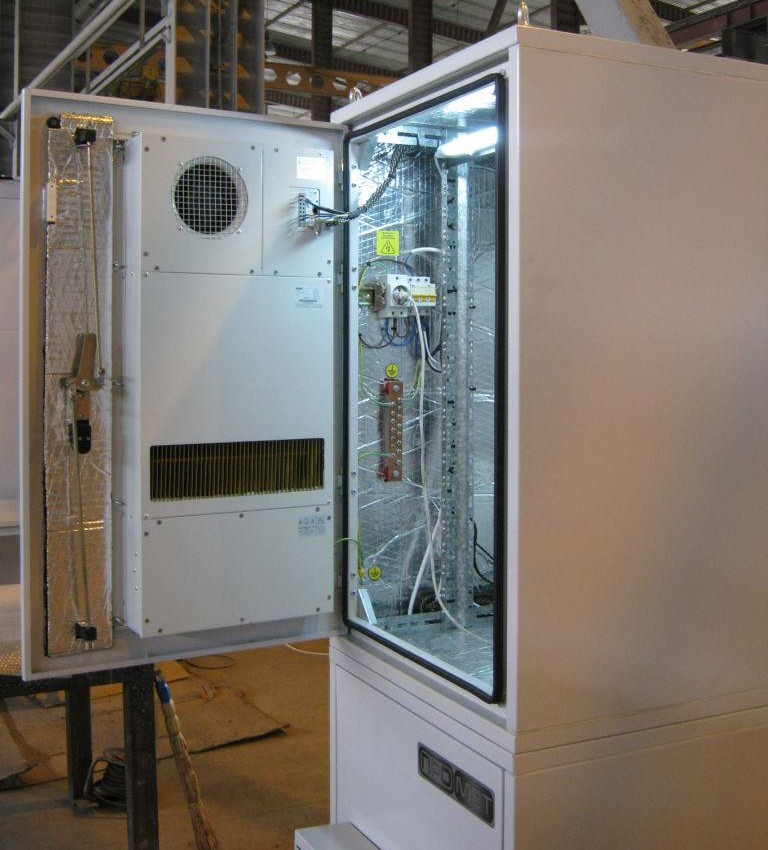 "Promet" LTD. produces metallic structures since 2008, and another important position in its product suite is occupied by metal cabinets for various use, including the housing of different technical equipment. Keen prices and top quality of our products make them highly demanded in many sectors of state economy.
Are you in urgent need of a metal cabinet for housing of control systems, automation systems, telecommunicational equipment or electric machinery? We roll out a wide variety of such cabinets: universal equipment cabinets, switchboard cabinets, refrigerator boxes, IT cabinets, wall cabinets, on-floor cabinets etc.
What exactly is a metal cabinet?
Metal cabinet is a metallic structure for housing of electrical or communicational equipment. Such cabinets are an element of solid electrical grids. Metallic mini-shelters of different size are used for housing of power distribution equipment, UPS units, servers, along with automatic and manual switches.
"Promet" LTD. specializes in manufacturing of on-wall and on-floor electrical equipment cabinets, outdoor stands, 19-21 inch electricity boxes, type-70 carcass electrical panels, wiring panels and mounting rails.
Why order a metal cabinet from us?
You can order a durable and long-lasting electricity box or mini-shelter with IP35-IP54 grades of defense at our factory. The construction type can be either on-wall or on-floor.
During the production, body of the electrical cabinet is coated with special polymeric powder coating that ensures high proofness against corrosion. Before the anticorrosive coating with shagreen effect is applied upon the box, the surface undergoes scrupulous treatment. We strictly follow the technology of top-quality industrial metal cabinets production throughout every stage. Such an attitude towards metallic structures production ensures their long life and reliablilty, and makes them able to protect electrical equipment from external influence and provides their continuous operation.
If you're concerned with protection and long-term operation of your electrical equipment or other devices, you should order metal cabinets for your equipment from "Promet" LTD. We furnish finest metallic structures to the market and we provide excellent service! Contact us!